check us out at your local farmer's market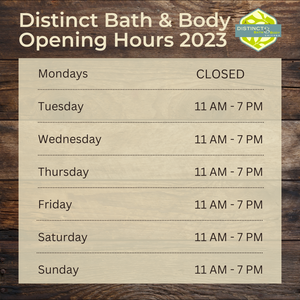 2023 STORE HOURS Personalized Gifts
Need a unique favor or gift for special events/parties/occasions or groups of people like employees, clients, teachers, etc? We can help. Choose a scent, add a message and we take care of the rest. Contact us for details.
SPREADING LOVE ONE BAR AT A TIME
Made in Small Batches with Big LOVE
Distinct Bath and Body specializes in artisan created, small-batch handcrafted soaps and bath products. The products we make and those we carry are good for the skin and have a low environmental impact, using natural and locally sourced, plant-based ingredients and oils. We also carry grooming and shaving supplies, bath accessories and home fragrances.
We are a small, minority-owned and operated family business that puts its heart into every product we make.  Our goal is to create aesthetically pleasing, worry-free products that clean and nourish naturally for you.